Want to learn a quick trick to save time on social media?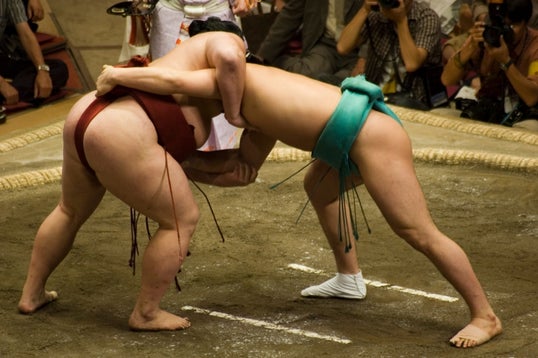 Anyone who has been following me for a while knows that I have a love/hate relationship with social media.  I love the opportunity social media provides to stay in touch with friends, family and contacts and to get my work out there to home buyers and sellers in Montreal West Island.  But I hate how social media sucks my time away without my even realizing it. I wrestle with this daily.
Me wrestling with social media: I'm the cuter one
Well, 10 days ago, at a seminar on developing a social media strategy
that was organized by
MiB Networking Group
and delivered by
Nancy Overbury
, I learned of a beautiful secret.  OK, I suppose it's not so much of a secret as a treasure, really.
Have you heard of
Hootsuite
? 
It's a site where you can update your status and post it to as many social networks as you want.  And each time you do it, you get to choose which sites you want your update to go to.  You first have to set up an account at Hootsuite (I have the basic/free setup) and then you add the social networks that you want to be part of your account.  My Hootsuite account links to my Facebook profile,
Facebook fan page
, 
Twitter account
, and
LinkedIn profile
.
As an example, if I feel like sharing something that is more personal and less business-related,
 I may not want my status update to go to my LinkedIn profile nor my Facebook fan page, but I do want to it go to my Twitter and Facebook profile.  After I type in my status update at Hootsuite, I just click on the profiles/sites I DO want it to go to.
If I write a blog post,
I likely want it to go everywhere, so I pen my status update at Hootsuite and provide the link to
my blog
, and then click on all four social networking sites.  And voila!  An update goes to all four social networking sites announcing a new blog post.
Hootsuite also counts the number of characters you are using and lets you know if you've gone beyond the Twitter limit of 140 characters.
It's so simple, and a real time-saver. 
And it's easy to set up.  I mean, if I can do it….
  ~~~~~~~~~~~~~~~~~~~~~~~~~
Did you know?

I stage all my listings…at no extra charge.
It's part of my service package as a Montreal West Island real estate agent/broker.  I also hire a
professional photographer
to take photos of your home for the MLS.
Professional home staging and professional photography: two critical factors to making sure your home looks its best, both in person and on the Internet, and
neither of them cost you extra when you list your home with me.