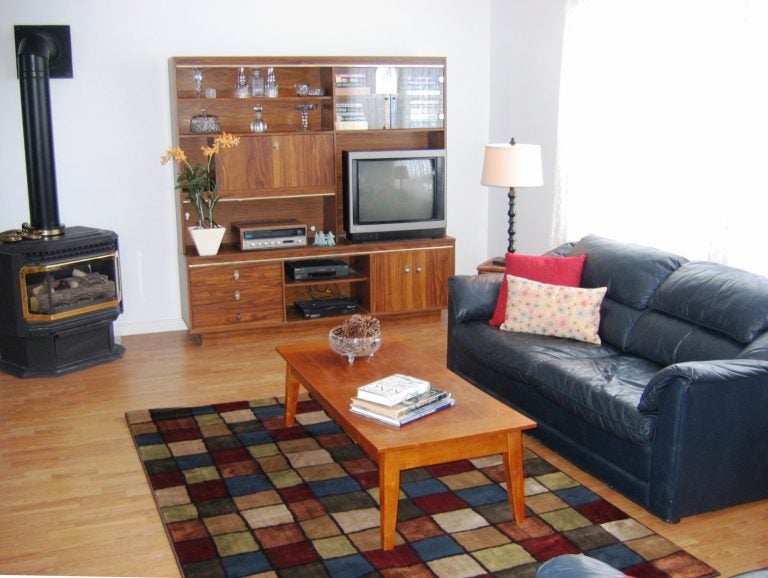 Home stagers do not hide problems!
I know many of you believe that we do, because I've seen the surprise on your face when I refuse to do it.
And who can blame you for believing this when even the revered Mike Holmes, TV star and general contractor extraordinaire, puts out an article in The Montreal Gazette stating "…staging suggestions…hide real problems."  (Which is too bad, because the rest of his article on getting your home inspected before it goes on the market was bang-on.)
Oh for the love of Pete.  Enough already.
If your home stager suggests that you hang a piece of art in the upper right hand corner of the wall to the cover the hole your sons made playing baseball in the family room, RUN AWAY! Fast.  This is not the person you want preparing your home to go on the market.
Seriously.
It's true that home stagers bring out the best in a property. It's true that we help show its full potential.
But we don't use magic or sleight-of-hand to accomplish this. We use colour to make a home feel fresh and warm, smart furniture placement to show the space in a room, accessories that bring life, light so you can see, art to touch your heart.
BUT BEFORE WE DO ANY OF THAT, we tell our clients that the best bang for their buck will be to take care of outstanding maintenance issues, to fix the things that need fixing, to clean up!, to de-clutter (yes, we all have clutter) and to paint where needed to freshen things up.
At least that's what good stagers do.
If you're in need of a good Montreal home stager, I happen to know one. She can also sell your home for you.
She's pretty passionate about what she does – and doesn't – do. You can see some of that passion in this here blog of hers.
Source:
https://thecharmingbenchcompany.com/