If all I had to do was my job
, oh how my life would be simpler. Quieter too, of course, and less joyful and fulfilling and heart-warming and all of that. I get that. I really do.
But today, I am envious of my husband
, who kisses me and the boys in the morning and goes off to work, where he gets to…work! And he works all day, knowing his kids and his home are well taken care of and that supper will be ready (most days) when he arrives home at the end of the day.
He gets to do his job, without worrying about: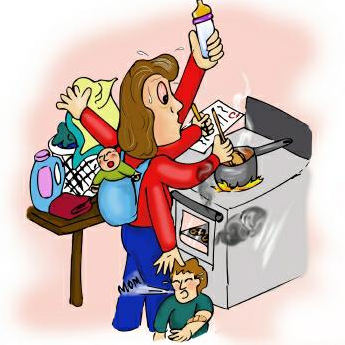 How to be in three places at the same time.
How to say no…again…to our son's having a friend over because I have an appointment later.
How to schedule a breakfast meeting, photo shoot and uploading of an MLS listing around our kids' activities and sleepover plans.
Whether there's enough food in the house to get through the next day.
How to find time to walk the dog.
Whether we have clean sheets for tonight's guest in the spare bedroom and if not, what then!
How to find the quiet, uninterrupted space necessary to study the market for properties fitting my new client's needs and schedule showings that make sense.
How to keep the kids happy, entertained and nourished while I'm buried in paperwork.
How to schedule a quick one-day trip to the country to visit a friend who is in from California when I'm about to get a new listing.
How to speak with the developer I'm working with without the sounds of cartoons and "Mom, I'm hungry!!!" in the background.
And whether the boys really will turn into violent psychopaths because of the number of hours they've spent playing video games yet again!
Don't get me wrong. I love all of my various roles
: mom, wife, dog owner, home owner, real estate broker, home stager, sister, daughter, friend, etc. And I would not trade any of it…well, not for any length of time anyway : )
And I have a really and truly supportive husband
. I really, really do. He's a partner in every sense of the word. But even so…
What I find hardest
is not the hard work, the scheduling, the organizing, the management and over-seeing of most things home and children related. What I find hardest is the feeling that I'm not doing anything really well. I'm doing some things really well, but not all of them. And yet they're all important to me.
Ah, the angst of the working mother
.
If anyone knows of an antidote
to this angst, beyond an evening glass of wine, spill your beans! Please!
As for me, I'll begin my research on cloning…