As a Montreal real estate broker, I'm often asked, "How's the market doing, Tanya?"
If I was bluffing or had my head in the sand, I'd say, "Great!"  But I don't bluff and the sand gets in my eyes. If I was a pessimist, I'd say, "Terrible." But my glass is always half-full.
In reality, the answer is much more complicated…as am I.
Here are some highlights of the latest analysis* by the Quebec Federation of Real Estate Boards, looking at the figures for August 2012 and comparing these to the figures for the same month last year (August 2011).  Please note that these statistics are based on sales that involved a real estate broker.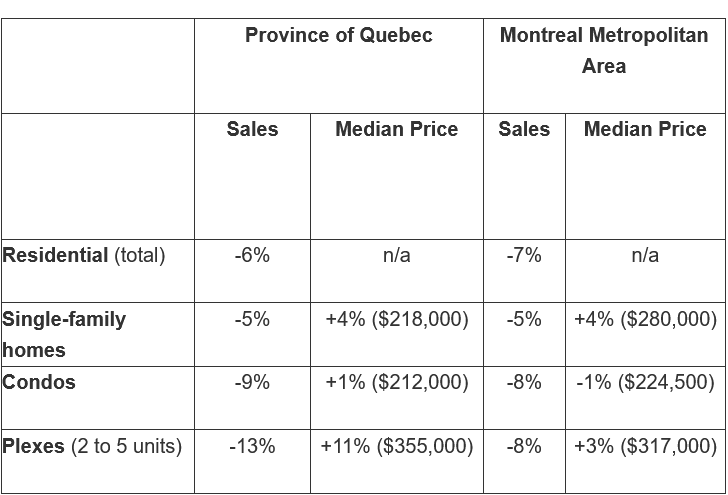 So why the decrease in sales now?

Indeed, we have gotten quite used to increases in residential sales month over month, both in Quebec and in the Montreal real estate market.  So what's changed?




While some would speculate that our provincial election is partly responsible – and indeed there is anecdotal evidence of people deciding, both during and after the election, to move to another province – virtually the whole country felt the decrease in residential sales in August 2012.In fact, according to the Canadian Real Estate Association, residential sales in Canada dropped almost 9% in August 2012 compared to August 2011.  Only Alberta (up 5%) and New Brunswick (up 0.5%) had increases.  British Columbia suffered a whopping 18% decrease in residential sales in August, the highest in the country.Given that the decrease in residential sales was felt nationally, the most likely culprit is the federal government's decision to tighten mortgage lending rules.


Tightened mortgage lending rules
In July 2012, the maximum amortization period for a government-backed mortgage was decreased from 30 years to 25 years. The amortization period is the amount of time it will take to pay off
mortgage loans
,
investment property loans
, or
conforming loan programs
in full, making the same monthly payments (at a consistent interest rate, of course).  A longer amortization period means monthly payments are lower, as there is more time to pay off the loan. 
A shorter amortization period means monthly payments are higher, as there is a shorter period of time to pay off the loan.Mortgage lending rules for government-backed mortgages were in fact tightened three times by the feds between 2008 and 2011.  Minimum down payments went from 0% to 5%, and the maximum amortization period went from 40 years to 35 years to 30 years, until the latest move to make it 25 years.
What this means for the average buyer is that they can now afford less house than before.  In a September report, TD Bank estimates that the latest tightening in mortgage lending rules will lead to a 5% decrease in sales and a 3% decrease in prices before the end of 2013.  The latest tightening of the rules is expected to have more impact than the previous ones because 30-year mortgages were more popular than the 35- or 40-year ones.
Why have the feds tightened the mortgage rules? One, to decrease the amount of household debt Canadians are carrying, and two, to cool the real estate market.  We'll soon see whether they are successful.


What I see…
Here on the ground, I can tell you that well-priced, move-in ready homes continue to sell well. But pricing is clearly becoming a bigger factor.




Before you put your home for sale, please be sure to speak with a professional, someone who studies the market, previews homes in your specific market regularly, knows how to prepare, present and market your home for today's buyer, and is willing to do an in-depth analysis of the market to help you with pricing (as opposed to picking a number off the top of her head). You'll waste less time on the market and be more successful in reaching your goals, particularly in this changing real estate market.




Disclaimer: I am not a mortgage broker nor an economist, though I would gladly play one on TV. Should you have any questions about mortgages, I know some excellent mortgage brokers and mortgage specialists who study this stuff day in and day out. Shoot me an email at

tanya@readysetsold.ca

and I'll put you in touch with them.*Source: Window on the Market, September 2012, Quebec Federation of Real Estate Boards