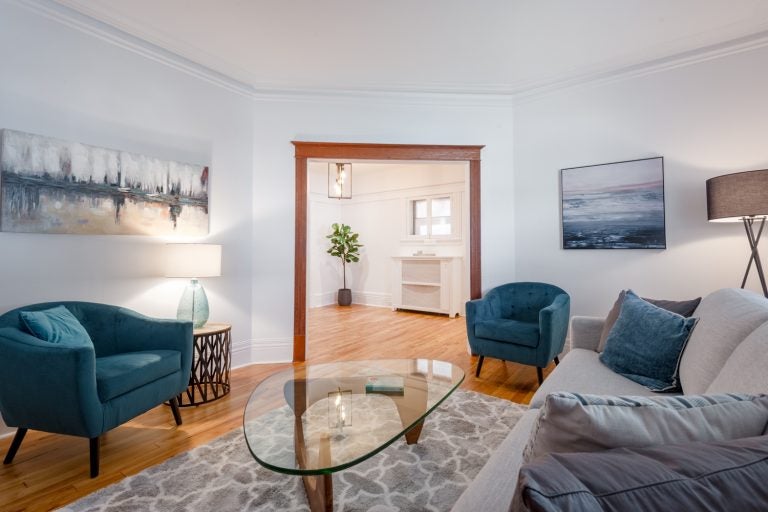 I know it's common for home stagers and real estate agents to talk about the things you
should
do to get ready for listing photos if you are putting up
homes for sale
as well as
luxury apartments
or
furnished apartments
for rent.
Here, though, I'm going to provide a bit of relief and talk about 5 things you don't have to worry about before photo day.
1. Closets
When buyers visit single family or
community homes
for sale, they will absolutely open closet doors. They are looking to see how much space there is for their things, because let's face it, storage space is a huge selling point…and we all have too much stuff! A stuffed closet tells a buyer that there isn't enough space…even if there is! And we don't get a second chance to make a first impression so if you need to organize a bit of the clutter, consider getting a
storage unit
.
But for picture day, no one will be taking pictures of your closets, so if you need to, feel free to throw some stuff into your closets that you don't necessarily want to be in pictures. Just make sure to go through all of this before your first visit.
The only exception to this rule would be a huge, exceptional walk-in closet with lovely built-ins. That would represent a significant investment on your part, an asset to the property, and that you would want to shine in pictures.
2. Storage room
Sometimes when I'm walking through a client's home to do my research before providing my opinion on their home's value, people will proudly show me the storage space they've been working on clearing out for the past 3 weekends. Other clients will hang their head in shame (no judgement from me! for sure!) when we reach this room.
The truth of the matter is, most listing photos will not include a picture of the storage room. Buyers will want to see this space when they visit, for sure, but even then it doesn't need to be perfect. Truly. When buyers are visiting, you want it to show the space available, but it's a storage room and buyers understand that.
3. Garage
Similar to the closet point, unless you've got an absolutely spectacular garage, chances are its interior will not be in the listing photos. So this space can often by used to house things from elsewhere in the home that you would rather not have photographed. If you don't have a garage and would like to add some extra value to your home, then consider contacting a professional garage builder like the ones from
https://www.midwestgaragebuilders.com/
.
It can also be used to store packing boxes, which you can — get this — start packing! Yes! Buyers love to see that the sellers of a property are actually starting to get ready to move out. I can't tell you the number of times my buyer clients have toured a home and then commented to me quietly, "How in the world are these people ever going to get everything packed and out of there?" It really has an impact on a buyer's ability to see themselves there, which we know has an impact on whether they will make an offer or not.
So if you're wondering where in the world you're going to start putting all of your stuff to get your house camera ready, if you don't have time to go through it to decide what to donate, repurpose, or trash, start packing! And start piling boxes neatly in the garage.
Even when it comes time to have visits from buyers, the key factor in a garage is for a buyer to be able to see that they could park their car(s) in there. If a garage is stuffed to the ceiling and wall to wall, a buyer can't judge whether their car will actually fit. Even if it's not possible to park a car in there at the moment because of all of your stuff, you want a buyer to be able to envision the space for their car and to walk through the garage, even single file, to see its size.
4. Perfect cleanliness
I truly believe that cleaning your house, whether through your own sweat and tears or by hiring someone to do it for you, is the single best investment you can make in getting your home ready for the market.
That said, for picture day, don't worry about a bit of dust on the mantel, dirty baseboards, unclean toilets (at least on the inside), or floors that haven't been freshly mopped that day. The camera just won't pick up on these things.
The camera might, however, pick up on toothpaste on the bathroom mirror or in the sink, giant mud prints on the floor, and really dirty windows, so pay attention to these areas, but don't stress about the corners or the details for the photoshoot.
5. Kids' bedrooms
If I told you that all is forgiven with children's bedrooms, would you believe me? OK, "all" might be a bit of a stretch. But so much is forgiven by buyers when it comes to this space.
A lot of my clients stress about their kids' rooms, feeling the battle and the task to get them shipshape is overwhelming and, frankly, very combative. For the camera, you absolutely want to have the bed made, most things off the floor, and all clothing in the hamper. But the 98 stuffed animals on the bed? Not to worry. The shelves full of their treasures? They get a pass. The walls full of their artwork? Grouping them onto one wall would be ideal, but it's not a deal breaker. The dollhouse and Lego structures on the floor? Totally fine.

Everyone was a child at one point in their lives. And most of us remember that. As long as the camera can photograph the room and show space via the bed, floor, window, and walls, and a buyer can see space for a bed and dresser and/or desk in there, you're pretty much good to go.

There! 5 less things to worry about as you get your home ready for a photoshoot! Let's face it, you've got plenty to do to get prepared. But not everything needs all of your attention right now.